How do you spoil your pet? Want to give your dog a toy or treat that will really keep that tail wagging? Perhaps a new cozy bed for your cat or stylish collar? Simply browse our great selection.
Griggles® Ruff Rope Knot Tugs Dog Toy
$5.59

Who wants to have some knotty fun? The Griggles Ruff Rope Knot Tugs Dog Toy features a durable, bright orange rope that's more durable that standard rope dog toys, and is designed with a knotted center for easy carry and ended tug handles for tug-of-war.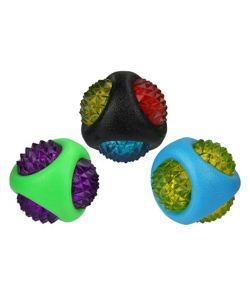 Multipet Doglucent TPR Light-Up Ball Dog Toy

$
4.79
Dogs love to chew and fetch this awesome ball from Multipet. It is made from Thermoplastic Rubber with an outer ring that has grooves and bumps to satisfy chewers. The inside is a translucent ball that lights up.
Snuggle Safe Pet Bed Microwave Heating Pad
$24.90
The Snuggle Safe bed heater is the simple, safe and easy way to heat your pet's bed. Simply place it in the microwave for approximately five minutes, then place under your pet's bedding. It will provide up to ten hours of safe, comforting warmth. Ideal for new arrivals, elderly or sick pets or travel, it can be used inside or out. Comes with one heat pad cover.
Midwest® Quiet Time Deluxe CoCo Chic Pet Bed

The Quiet Time Deluxe CoCo Chic Pet Bed by Midwest provides your dog or cat the ultimate in comfort. Perfect for crates, travel,  and vehicle use, the Deluxe CoCo Pet Bed is made with ultra-soft, plush synthetic fur and a tufted, plush polyester cushion with a non-skid bottom. 100% machine washable, Midwest Deluxe Quiet Time Pet Beds will keep your pet warm in the winter and cool in the summer.
Weruva Paw Lickin' Chicken Grain Free Can Dog Food
$41.67
Weruva is a luxurious, all-natural pet food inspired by and named after 3 rescued cats. After creating "The Best Cat Food Under the Sun," they also introduced a dog food line inspired by their rescue dog. This family owned company has processes that have a global stamp of approval for human consumption standards. They only use the precise quality materials that are used to produce human food in a human food facility in Thailand.
Four Star Duck A La Veg Dry Cat Food
$44.25
The Four Star Duck A La Veg Dry Cat Food is a nutritious mix of fresh Wisconsin duck and sweet potato, with carrots, broccoli, apples, cranberries and parsley.
MidWest® Feline Nuvo™ Curious Cat Cube
$29.99
The Curious Cat Cube is an attractive, easy-to-assemble kitty cube that features a cushioned top bed with soft bolsters, hide-and-seek side cut-outs, and hanging plush toys with jingle bell. Made with soft faux-suede and synthetic sheepskin, the Curious Cat Cube will soon become your cat's favorite hangout.
  Copyright © 2018 TABcom LLC. All rights reserved.