Are you using the right serum?
You are not alone in having no earthly idea what a serum is, let alone why you need one in your skincare routine! But, we are here to tell you that whatever your concern may be, there is a serum designed to target and help control it.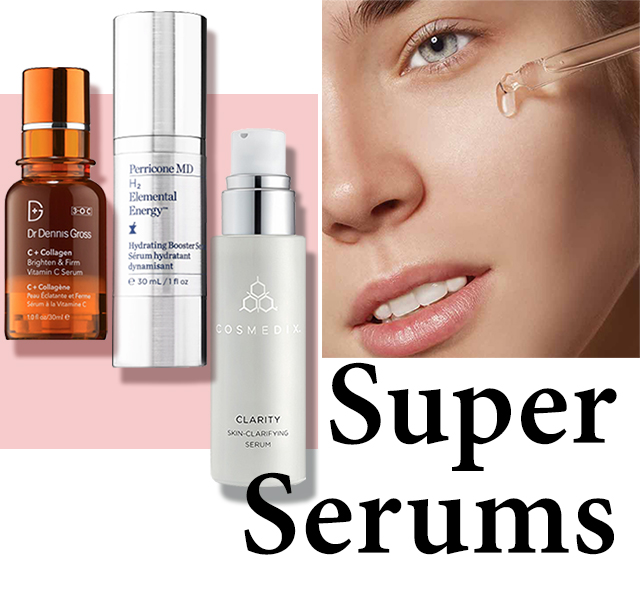 Serum is a skincare product you can apply to your skin after cleansing but before moisturising with the intent of delivering powerful active ingredients directly into the skin. Serums are particularly suited to this task because they are made up of smaller molecules that can penetrate deeply into the skin and deliver a very high concentration of active ingredients.
This makes them a great tool for targeting specific skincare concerns, like fine lines and wrinkles, texture, uneven tone and pigmentation, your basic signs of ageing! Which serum is right for your skin? If you have…
ACNE-PRONE SKIN
Acne-prone serum advice: Look for vitamin C (increases collagen production, enhances skin's repair process, and reduces inflammation), retinol (also an antioxidant, reduces inflammation), zinc (soothes irritation, regulates oil production), and salicylic acid (unclogs pores).
CosMedix Clarity Skin-Clarifying Serum
This serum is a unique and very effective blemish fighting product, formulated without irritating ingredients. Designed to calm, correct and support the skin. Formulated with Salicylic Acid & Pregnenolone to deeply exfoliate skin, eliminates impurities and balance oil production. Blended with L-retinol A to promote cell re-growth and restores clear, smooth, refined and healthy looking skin.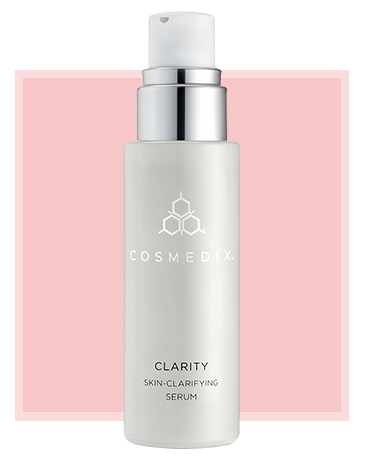 DRY/DEHYDRATED SKIN
Dry/Dehydrated serum advice: Look for vitamin E (an antioxidant, protects cells from oxidative damage), niacinamide (improves skin elasticity, increases ceramide levels in skin), glycolic acid (gently exfoliates and lightens discoloration), and hyaluronic acid (retains moisture).
Perricone MD H2 Elemental Energy Hydrating Booster Serum
Saturate skin in serious hydration with this intensive treatment serum; a must-have skin care staple for dehydrated, fatigued skin. Formulated with dehydrated, lacklustre complexions in mind, this hydrating treatment serum works to combat the look and feel of dry skin. Powered by Perricone's proprietary H2 Energy Complex™, this lightweight serum penetrates the surface layers of the skin to replenish moisture, refine texture, minimise stress and boost radiance. The result? A plump, supple and smooth complexion that radiates luminosity.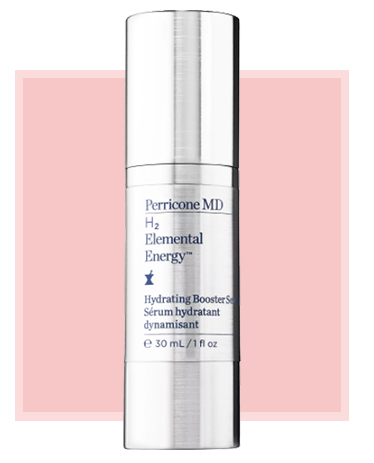 DULL SKIN
Feeling dull serum advice: Look for antioxidants like vitamin c, green tea extract, resveratrol, ferulic acid (these combat free radicals, increase effectiveness of sunscreen by day, and promote cellular repair and healing by night).
Dr Dennis Gross C + Collagen Brighten & Firm Vitamin C Serum
This serum brightens and evens out skin tone. Similar to using a vitamin C supplement when you're feeling unwell, it can also boost the immunity of your skin, act as an anti-inflammatory and it's also a powerful anti-oxidant. Dr. Gross has taken the most stabilised form of vitamin C, combined it with a brightening complex, carnitine and lactic acid to create a serum that instantly wakes up your skin. Formulated with a cocktail of skin-revitalising actives, this fast-absorbing serum delivers flawless skin. It is an energy-boost elixir that repairs imperfections and recharges skin to restore a healthy-looking glow. Formulated with collagen amino acids, vitamin C, coq10, superoxide dismutase, carnitine and niacinamide to strengthen, soften the appearance of wrinkles, banish dark spots and boost radiance.
   AGEING SKIN
 Signs of ageing serum advice: Look for a cocktail of retinol, vitamin C and vitamin E to kick-starting the synthesis of elastin and collagen to promote your skin's 'bounce', resilience and youthful lustre.
Peter Thomas Roth Retinol Fusion PM Night Serum
This serum harnesses the youth-boosting properties of retinol (without the 'irritating' side-effects) in featherweight, deeply penetrative texture that absorbs almost instantly to "politely push" lazy skin cells into action – stimulating manufacture of essential building blocks which maintain your complexion's 'stretch' and density. Vitamins C and E combine to neutralise the cell-ageing effects of everyday environmental stress while fortifying fragile fabric to delay development of fine lines and wrinkles, while a blend of hydrating and conditioning extracts works to negate the typically drying properties of retinol, so your face feels firm with an enviably dewy smoothness.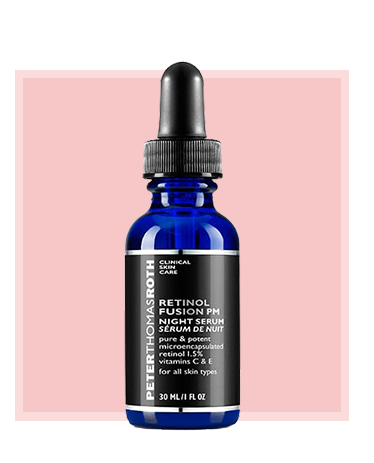 This Months Editors Picks
Sisley

Express Flower Gel

60ml/2oz

Laura Mercier

Loose Setting Powder - Translucent

29g/1oz

Clinique

Take The Day Off Cleansing Balm

125ml/3.8oz

Estee Lauder

Idealist Pore Minimizing Skin Refinisher

75ml/2.5oz

Peter Thomas Roth

Retinol Fusion PM

30ml/1oz

Guerlain

Idylle Eau De Toilette Spray

50ml/1.7oz

NARS

Sheer Glow Foundation - Punjab (Medium 1 - Medium with Golden, Peachy Undertone)

30ml/1oz

Estee Lauder

Illuminating Perfecting Primer

30ml/1oz

Chloe

Eau De Toilette Spray (New Version)

75ml/2.5oz

CosMedix

Clarity Skin-Clarifying Serum

30ml/1oz

Estee Lauder

New Dimension Smooth + Creme-Glove

75ml/2.5oz

Dr Dennis Gross

C + Collagen Brighten & Firm Vitamin C Serum

30ml/1oz

Christian Dior

Hydra Life Deep Hydration - Sorbet Water Essence

40ml/1.3oz

Perricone MD

H2 Elemental Energy Hydrating Booster Serum

30ml/1oz

By Terry

Baume De Rose Body Cream

200ml/6.7oz

Glamglow

GalactiCleanse Hydrating Jelly Balm Cleanser

145ml/4.9oz

CosMedix

Detox Activated Charcoal Mask

74g/2.6oz

Estee Lauder

Revitalizing Supreme Light + Global Anti-Aging Cell Power Creme Oil-Free - For Normal/ Combination Skin

30ml/1oz
Copyright Fragrances & Cosmetics Co.™